BDS Shropshire area offers a variety of carriage driving activities for both the experienced and those new to driving.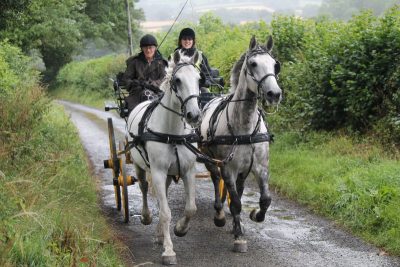 There are a number of established annual events. These include; Shrewsbury Carriage Parade based on Attingham Park and the historic county town of Shrewsbury. Shropshire Driving Days, based on Brampton Bryan and the quiet lanes and byways of the lovely South Shropshire countryside. 
Notice – Ted Orgill, Treasurer and Bryony Cowie, Secretary be will resigning their posts at the next AGM (2019). Any volunteers for the posts, please contact Philip Holder – see contacts page.
Advance notice – For anybody who is interested in seeing the Duke of Westminster's Carriage Collection the Eaton Hall Estate, Chester has four Garden Open Days for charity in 2018 when the Collection can be viewed.  The dates are the 1st April, 27th May, 29th July and 26th August with an opening time of 10.30 to 5.00 and a charge of £8 per person.  For more information visit www.eatonestate.co.uk 
Click here for link to Shropshire Driving Days photos.     
 Full details of the BDS GDPR policy can be viewed  on the main BDS site.